Rochester, NY – Owner of Rochester Fitness and Cycling Jamie Gruttadauria has announced that they w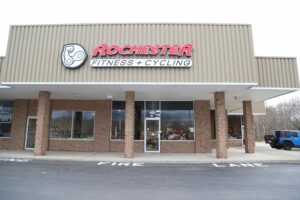 ill be moving the store from their 2,700-SF location at Panorama Trail to a nearly 3,600-SF space at the Browncroft Corners Plaza: 2501 Browncroft Blvd Rochester NY 14625 (on the corner of Browncroft Blvd and Blossom Rd). This will be their third location in the area due to growth – adding about 800 SF to their showroom.
Gruttadauria has been in the fitness and cycling industry since adolescence. His first job was at the Webster location of a 6-store chain called Spokes-N-Wheels. After graduating from Monroe Community College in 1993, Gruttadauria was given one of the stores and went on to become fitness equipment buyer for all 6 stores. During this time he developed his expertise in merchandise knowledge, floorplan layouts, and training staff how to sell.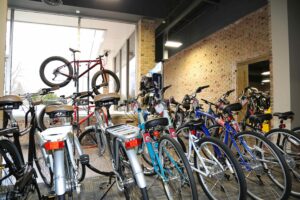 In 1997, Gruttadauria opened his own store, Rochester Fitness, at the Panorama Plaza exclusively selling fitness equipment. In 2007, the successful shop expanded to its current location at 749 Panorama Trail. As popular fitness trends like CrossFit and P90X traded traditional equipment for bodyweight apparatuses, Gruttadauria filled the decrease in equipment demand by returning to his cycling roots. The added cycling inventory led to the store's name change: Rochester Fitness and Cycling.
After 8 years at Panorama Trail, the shop is ready for more growth. The larger showroom at Browncroft Corners Plaza will allow for more product displays and features. Gruttadauria says the new shop will offer a service bar for customers to watch their bicycles get repaired. It will also feature a full selection of cycling and fitness apparel with a dressing room for customers to try on the apparel.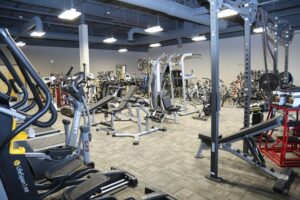 The new location is also closer to premier mountain bike trails and road cycling routes. It is in bike riding distance to Tryon Park (1 of 3 locations in Monroe County legal for mountain bike riding). The relocation will serve as a prime resource to the large community of cyclists in the area.  
Rochester Fitness and Cycling of Rochester, NY specializes in selling, servicing, and providing high-end fitness equipment and bicycle expertise that mass distributors cannot offer on a local level. The company was founded in 1997 and currently stocks over $200,000 worth of inventory. The shop can be reached at 585-218-4110.
#  #  #