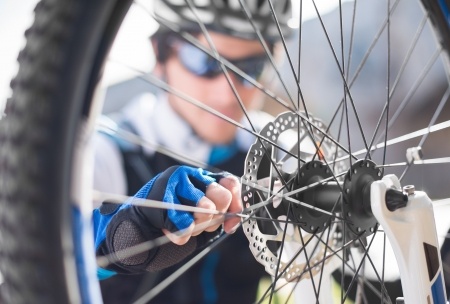 Get your bicycle TUNE UP special for $59.99!
Call

→

 (585) 218-4110
Warmer weather is on the way, and the trails are waiting for you! Make sure your bike is in top shape so you don't waste a minute of this season!
Rochester Fitness & Cycling isn't just a place to purchase bicycles… no, no. It is your personal hub for ALL and ANY bike service Rochester NY! Have you been riding your bike for a few years now without any maintenance? Perhaps you've noticed the ride isn't quite what it once was. Maybe your tires aren't inflated to full capacity, or maybe your brakes aren't helping you stop in a timely manner. These issues could cause you a range of experiences – from minor annoyances to major hazards. Please, don't allow them to spoil your cycling mood!
We exist to motivate, inspire, and cultivate the bicycling culture! One of the ways we accomplish this is to provide riders with affordable, efficient, and informative service (bike service Rochester NY). There's no reason to get down about a rough ride or a messed up part on your bike. We have all the experience and parts needed to bring your bike back to life and return to you your excitement to ride! Contact us today if you need a bike tune-up, or any other bike service Rochester NY.